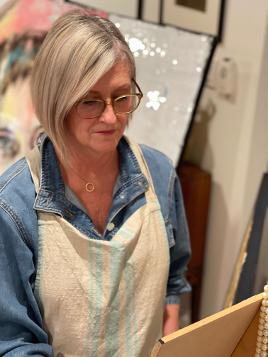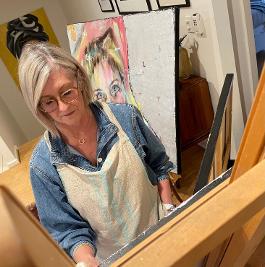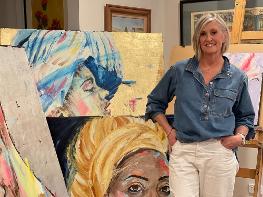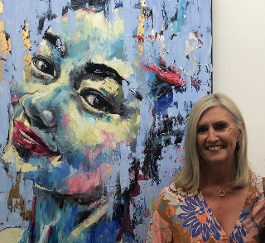 Exhibition Nurses and Friends, Womens and Children's Hospital 2020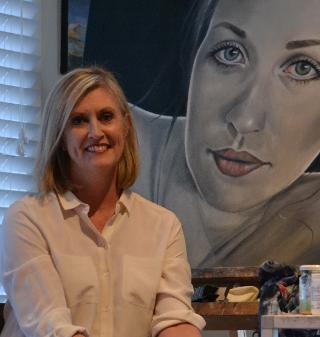 "Photo courtesy of The Times, Victor Harbor. Pic by Alice
Dempster."
Lisa Ingerson FRSASA
Awarded Diploma of Fellowship, Royal South Australian Society of Arts, Oct 2019

I am an artist with a passionate interest in painting large bold people focused works using various styles to explore feelings, intensity and form working with a number of different mediums including, charcoal, bitumen, gold leaf and oils. I also paint on maps, plans or something personal to the sitter letting the images show through the painting so that the person is part of and entwined with the background. Maps and plans represent movement and changes that occur during our lifetime. I am interested in the reality, truth and poignancy of a single moment or a certain intensity provided by the subject. I hope that the viewer doesn't get caught up with trying to work out who the subject is but rather to enjoy and explore the beauty, intenseness or joy of life that evokes thought and feelings.

In addition to portraits I have been exploring Australia's wonderful coastline and landscapes looking at the rich, vibrant colours and shapes our land offers. It has inspired me observe and seek out the different areas our country has to offer. I look forward to continuing on this journey.
There is a beauty in feeling the sea salt, sea spray and wind on your face. Hearing the sea on a day when there is stillness in the air but the sound of the sea travels to you. Running into the water, laughing and daring others to join you, to feel the cold and freshness with the first splash. It might be a nod, a smile when you walk past someone else on the beach that gives you a shared moment or it could be strolling along by yourself deep in your own thoughts. Or maybe it's a day when the sea is turbulent, turning on itself, when the sky and sea are grey but you still enjoy the windy walk on the beach or observing it from a window.
Our land, our colours are rich and earthy. Just a few days in the Flinders Ranges can be refreshing and calming while exploring the country and history. Visiting when the land is green and fertile with an abundance of wild life, or dry and dusty with bones on the ground and crying out for water you realize that there is both a fragility and richness in our land.
I have painted urban themes along and explored the baby boomer era. My urban themes examine the the urban and rural landscape using acrylic and charcoal to portray an array of buildings. I reduce architectural complexity to minimalist lines incorporating bold deep colours. Using childhood photos found in friends home and old shoe boxes, I employ a gel transfer and hand colouring technique to portray a less complicated life during the sixties.
My previous paintings have explored the Adelaide Central Market and hotels around Adelaide capturing the atmosphere of public meeting places.
Contact Details
0412 955 775
email: lisa.ingerson@hotmail.com